Bezpečnostní agentura SIPADAN a.s.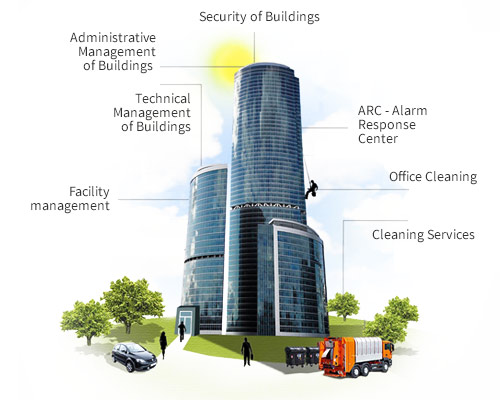 Office Buildings
Authorities and companies reside in administrative buildings. For a calm and safe running of the building, which is occupied by employees and visitors alike, it is essential to ensure both its safety and cleanliness. Take advantage of the supplementary service for a smooth running of the building. By linking the services under facility management you will achieve an effective cost optimization.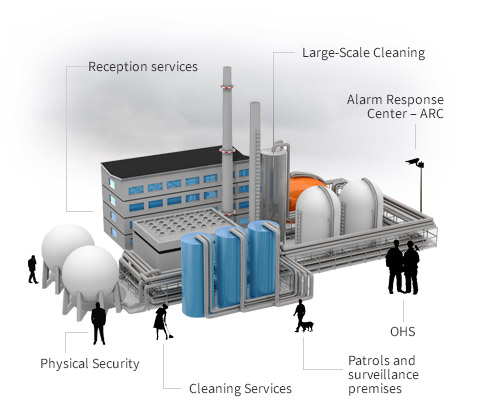 Industrial Buildings
Industrial buildings comprise of manufacturing and technological halls including premises. To make sure that the entire service in those facilities runs smoothly just place an order for integrated facility management services, which will fully support both a smooth functioning and organization of the property. You can either use the services separately, in a customized service package or complementary fulfillment.
Which of our services you may use?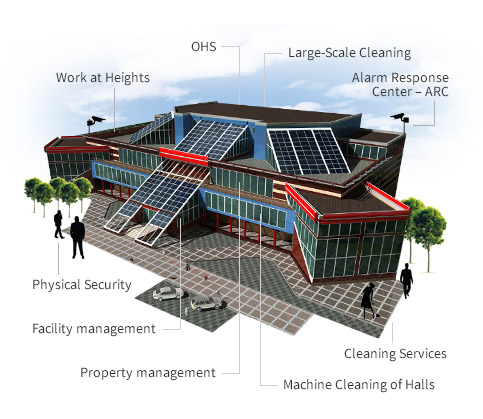 Commercial Buildings
Commercial buildings, small stores, showrooms, sports halls and fields, cultural centers, cinemas, but also garages – all these have an aim to make the potential customer feel welcome and relaxed.  It is the foundation to have cautiously maintained, clean spaces and full safety ensured. You can get all this from one provider.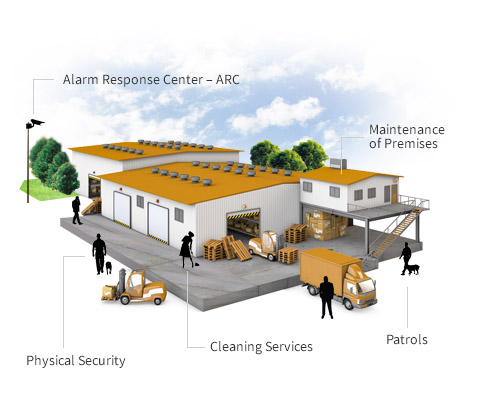 Logistics
We can secure warehouses, logistic centers, resorts, garages, parking lots and other premises under the open sky with a sufficient number of physical security officers and security camera systems with a 24hour nonstop surveillance. Depending on your order we can provide large-scale cleaning of premises. Our workers have a clean criminal record and are reliable.
Which of our services you may use?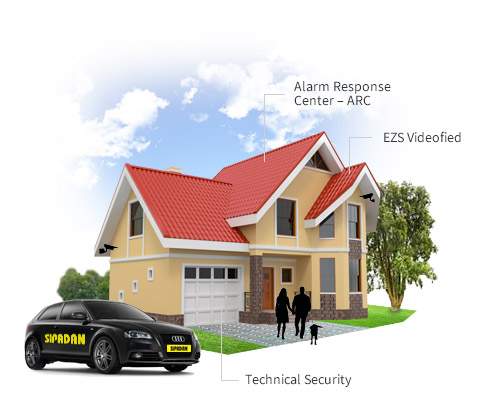 Private Houses
Country cottages are usually located in remote areas. We guard family houses and chalets with the help of electronic and fire systems. Sensors are connected to ARC, which operates 24 hours a day. When the guarded area is disturbed, our ARC operator sends an intervention unit to the location to secure the property and prevent further damage.
Which of our services you may use?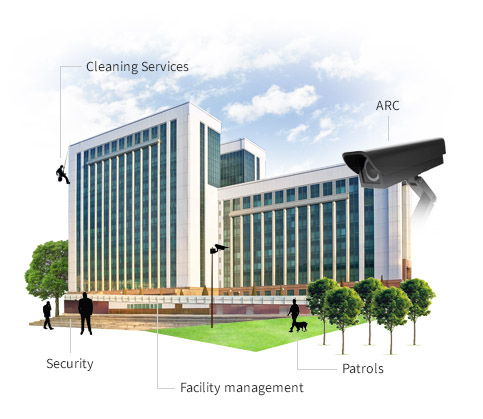 State Administration
Regions and towns more and more frequently use services to ensure public order and optimal city and village administration. We are also able to provide professional services such as security services, cleaning, administration and property maintenance for your town, bureaus, schools, streets and public places. We operate throughout the Czech Republic and have enough well-trained workers.
Which of our services you may use?
Culture and Sports
Whether you organize a conference, a fair, a culture festival or you need to ensure security of a sports match or a race, turn to experienced professionals to maintain public order! Guards are allocated to secure property or individuals according to the type of event and good knowledge of the area, they are vigilant and can handle stressful situation.
Which of our services you may use?
References of our cleaning and security services.
Contact us
We are happy do discuss your options and recommend the best.